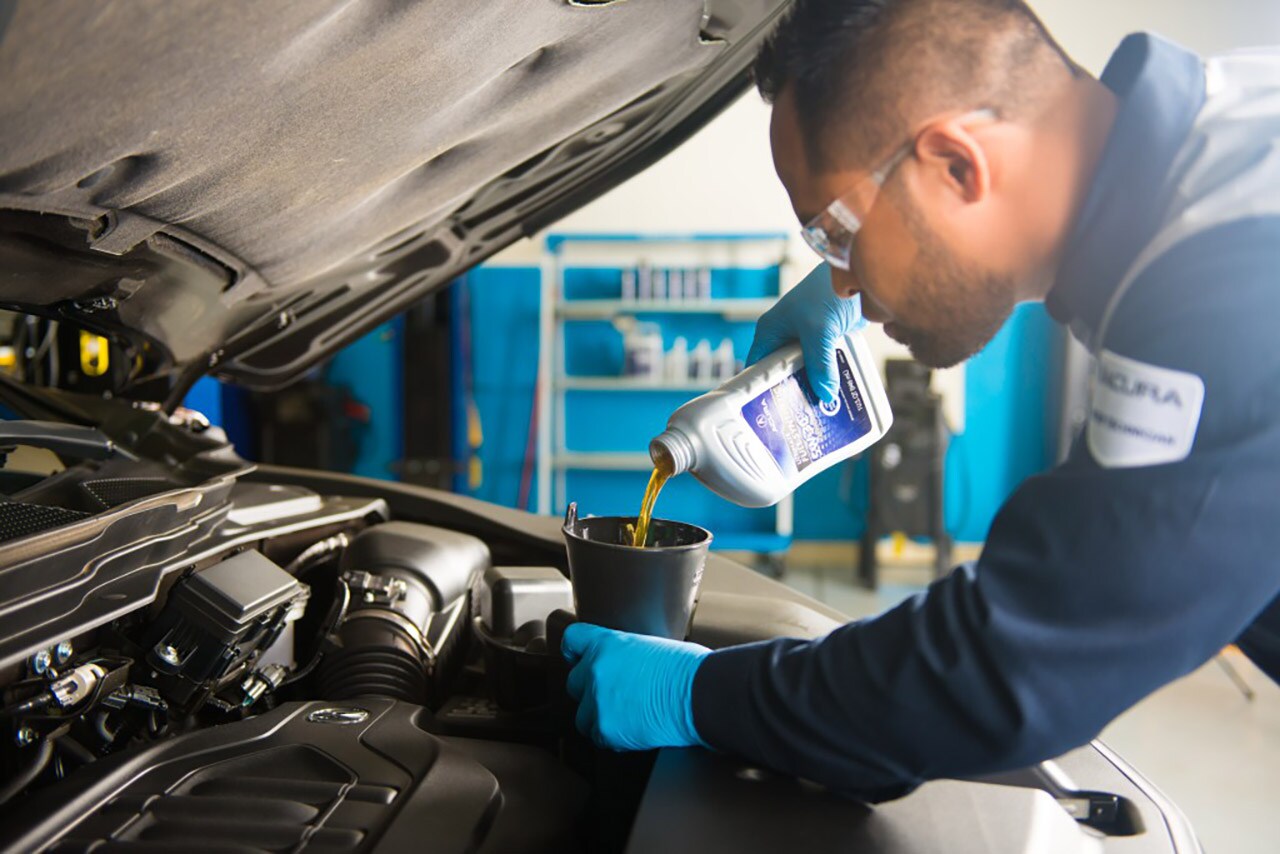 Sometimes it's the simplest things that make the biggest difference. You can see this in every new Acura model, with their meticulous attention to even the tiniest details. You can also see it in car care, where something as simple as an Acura oil change can help your car be, and run, its best. When you visit Hall Acura Virginia Beach, you and your car will get the expert attention you deserve!  
Acura Oil Change
 Service
Contact plus motion equals friction. For a car engine, there are hundreds of points of contact, many of them moving at hundreds or even thousands of revolutions per minute. That's a lot of friction, wear, and heat.  
Motor oil decreases the friction by lubricating, which in turn also cools your engine - and preserves it. A few quarts of fluid are one of the most important "parts" of your car. It's capable of wearing out with time and use, so it needs to be replaced every now and then.  
How often? It used to be you'd change your oil every three to five months, or every three to five thousand miles. However, advanced engines and new motor oil formulations have changed that.  
If you have a new Acura MDX, for example, the suggested interval is every 7,500 to 10,000 miles, but you should visit more often if you spend a lot of time in traffic, or if you do a fair amount of towing, since both tax your engine and your oil.  
What Happens if You Don't Change Your Oil? 
What if you're lax about visiting our Acura service center? Oil relies on a property called viscosity - its slipperiness - to do its job. With age and wear, it turns gummy. When that happens, it's causing friction instead of alleviating it.  
If you're a few miles late for an oil change, don't panic. If you wait too long, though, you're taking the chance of overheating or engine failure. Even barring those worst-case scenarios, you'll be looking at compromised fuel economy and increased engine wear.  
Schedule Service in Virginia Beach, VA Today
Let's close on a high note. When you visit our Acura dealership near Chesapeake, VA, you'll get a full range of Acura service - from oil changes to tire rotations, battery checks, brake inspections, and more - experienced technicians, and even Acura parts and service specials. Stop by Hall Acura Virginia Beach today!