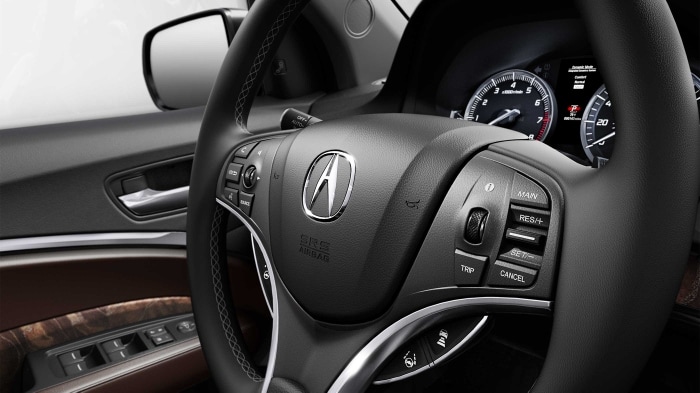 The name of the 2018 Acura TLX SH-AWD A-SPEC is a wee bit ungainly. Get behind the wheel and you'll forget the name, whatever was frustrating you five minutes before, and pretty much everything else save for the thrill of the drive. You may be familiar with the 2018 Acura TLX, but you've never seen it quite like this. It's coming soon to Hall Acura Virginia Beach.
In part, Acura A-SPEC is an appearance package, so let's start there. There are accents in black chrome and piano black inside and out, setting off the red leather interior and drawing attention to other touches like the charcoal-colored 19-inch rims and the dark chrome Diamond Pentagon grille. The Acura TLX already looked good, but here, it's dressed to kill.
But it's deceiving to call Acura A-SPEC an appearance package, since it bundles some other great features as well. Perhaps most important is the powertrain, which joins your choice of V6 P-AWS® or V6 SH-AWD® engines to a nine-speed automatic transmission.
All that power has to go somewhere, and in this case "somewhere" is the torque-vectoring SH-AWD system, which in turn takes advantage of four Michelin Primacy MXM4 tires. Factor in the electronically-tuned steering response and drive modes and the sum of the parts is a grippy, agile ride that tackles any road surface with panache.
To that, it adds the Technology Package, which includes a ten-speaker ELS Studio premium surround audio system, navigation with AcuraLink® Real-Time Traffic, and active safety measures like Blind-Spot Information System and Rear Cross-Traffic Assistance.
That's not all, of course, which is why we invite you to Hall Acura Virginia Beach at 3200 Virginia Beach Blvd., to find out more about this great new Acura model, and to arrange a test drive once it's in stock.